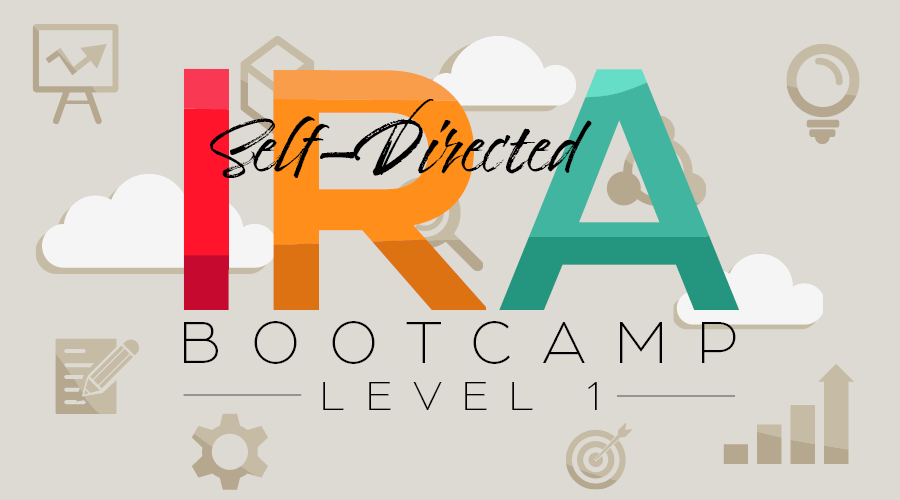 In recent years there been a lot of 'buzz' about self-directed retirement accounts but not a lot of depth. Our level 1 boot camp his designed to help you visualize where self-direction fits into your financial plan and wealth building strategy. This could be the missing piece to your plan.
Our Level 1 Bootcamp is for you if:
You've heard of Self-Directed IRAs, but don't know how they differ from "regular" IRAs
You're ready to diversify your portfolio and explore alternative investments
You're looking for a better understanding before deep-diving into a big investment
This is what you'll get:
A 4-hour interactive "Self-Directed IRA" Bootcamp with expert John "Jack" Kiley, CPA, CISP
Workbook and Handouts for you to reference when you begin investing.
Question & Answer opportunities to fully understand what you are learning.
Listen to experts in the Self-Directed IRA world and tap into their experience.
A full recording of the virtual event.
Self-Directed IRA Bootcamp Level 1 Details:
Saturday, April 30th | 10am – 2pm ET
This Virtual Bootcamp will be hosted using the platform Demio. You'll have the ability to use your camera and microphone to interact with us virtually during this Bootcamp. A Chat Box is also available. We will also send a Troubleshooting Guide prior to the event in case you run into issues.
Let's Take a Deeper Look:
Our Self-Directed IRA Level I Bootcamp is designed to provide an in-depth discussion as to what a self-directed retirement plan is and how it can be leveraged to help you meet your financial planning and wealth strategy goals. Our half-day program is designed to be interactive and allow you to ask questions directly to our experts. You will discover what kind of investor uses self-directed retirement accounts, what your investment options are and how to access these investments through the self-directed retirement account construct.  We will discuss the tax advantages of the various types of retirement accounts. You will learn how you can leverage your knowledge and tailor the account to choose exactly the type of investments that you want to include in your investment portfolio.
Learning Objectives:
What is the self-directed retirement plan.
Who can utilize a self-directed retirement plan.
Understanding basic strategies.
What types of retirement accounts can be self-directed.
What investments can be held in a self-directed retirement account.
What is the process for opening and investing through a self-directed retirement account.
How do self-directed retirement plans fit into your wealth building strategy.
Comparing investments in self-directed retirement accounts vs. taxable environments—AND learn the power of deferral.
Tax advantages/disadvantages of the different types of retirement accounts.
Comparison of various retirement plan options to maximize growth.