2023 Meeting Schedule
Tuesday, January 17th
Introduction to Self-Directed IRAs
Tuesday, February 21st
Investing in Real Estate with a Self-Directed IRA
Tuesday, March 21st
Note Investing & Private Lending in a Self-Directed IRA
Tuesday, April 11th
The Power of Leverage
Tuesday, May 2nd
Power User – TBD
Tuesday, June 20th
Rehabbing in a Self-Directed IRA
Tuesday, July 18th
Partnering with your Self-Directed IRA
August – NO MEETING
Tuesday, September 19th
401(k)s and Other Retirement Plan Options

Tuesday, October 17th
Purchasing Tax Liens in your Self-Directed IRA
Tuesday, November 14th
Tax Law Changes for 2023 & 2024
December – NO MEETING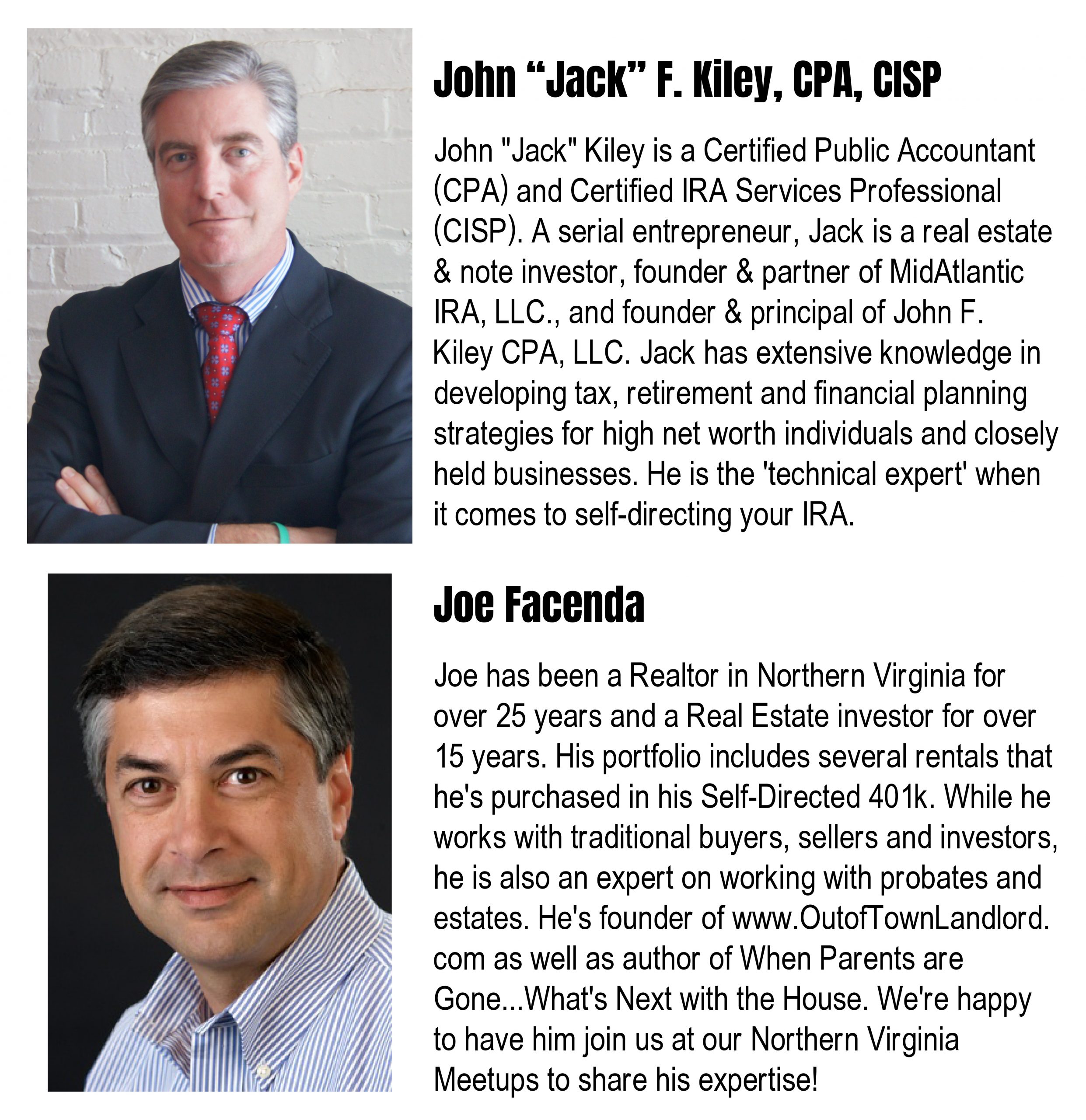 About Our Group
This is an investment strategies networking group for the Greater DMV area and a place to meet investors who have the same interests as you. This is a structured networking event. Nothing to sell, no sales pitches, no books, no boot camps, no DVDs, no class time. We will spend some time learning about private investment dollars, retirement plan dollars and how to find those sources. We regularly hear from investors that they want to meet other people who have similar goals and interests. At any event we attend, participants always request more networking time. So, here it is. All networking and no distractions. It has been said many times that your net worth is a reflection of your network. By coming to this Meetup, you'll learn how others network and how to improve your own.
Next Meeting Details
Purchasing Tax Liens in a Self-Directed IRA
A self-directed IRA gives you great flexibility, like investing in tax liens. jurisdictions are having "tax sales" this time of year, so now is the time to get smart about them. Would they be a good fit for your IRA?
At our next Strategies Group Meeting, Jack Kiley, CPA, CISP of MidAtlantic IRA will show you the basics of tax liens (what they are and how they work), strategies for successful tax lien investing, and how to make tax liens part of your IRA portfolio.
You'll also hear from investors who have reaped the rewards of tax liens with their self-directed IRAs.
When: Tuesday, October 17th at 6:30PM ET